OkiOki is currently working on an integration with the PEPPOL network. As soon as the integration is completed, OkiOki will be able to receive and send invoices over the PEPPOL network.
We expect to have this functionality in place by Q4 2023. In the meantime, you can already send your OkiOki sales invoices to the PEPPOL network via our partner IxorDocs.
What is Peppol?
PEPPOL means Pan-European Public Procurement Online in full and is a network that enables the exchange of electronic invoices (UBL invoices) between organizations, but also from organizations to governments. The PEPPOL network is available in almost the entire EU.
A customer who wants to provide services or products to the government must be able to issue electronic invoices to the government. In this case, the documents must pass through the Peppol network.
The PEPPOL standards are managed by OpenPeppol: this is a non-profit association between the European Union and 11 Member States. PEPPOL is therefore the network itself.
More safety, more security
In the PEPPOL network, companies can send UBL invoices to each other securely via unique ID numbers. Such a unique ID number is also called a PEPPOL ID. In order to register on the PEPPOL network, a validation process takes place. Only after the data of your company have been checked will you be admitted to the PEPPOL network. This mandatory validation and the secure network make sending or receiving invoices much safer.
The sent invoices also arrive directly in a 'digital mailbox'. In this way, as a sender, you know that your invoices always end up in the right place. And this 'digital mailbox' is often linked to workflows and other systems, which means invoices can be processed and perhaps paid faster as well.
PEPPOL & OkiOki
Through OkiOki you will soon be able to apply for your PEPPOL ID. This will allow you to both send and receive invoices via the PEPPOL network. Thanks to these PEPPOL invoices, we will no longer be dependent on the quality of OCR extracted data from PDF invoices. As a result, OkiOki will be able to match invoices to transactions even better and work more efficiently for you.
By allowing your PEPPOL invoices to pass through OkiOki, you retain your single centralized archive and overview in OkiOki. In this way, you remain in control of your administration and all invoices pass through you first, instead of going directly to your accountant or accountancy software.
We are currently working hard on this PEPPOL integration, but in the meantime, you can already send your invoices via the PEPPOL network thanks to IxorDocs.
How to send sales invoices via Peppol in collaboration with IxorDocs?
IxorDocs allows you to send OkiOki invoices via the PEPPOL network.
To do this, you need to do the following once:
You register with IxorDocs and are automatically assigned a PEPPOL ID.
You choose an IxorDocs package according to the number of invoices you expect to send. Now you have access to your Account Portal.
Then these are the steps per invoice to be sent:
Download your invoice in OkiOki as a PDF.
You log into your Account Portal
You upload your PDF invoice.
You check the invoice data.
You press send.
Register at IxorDocs
On this registration page, you can register your own company with IxorDocs.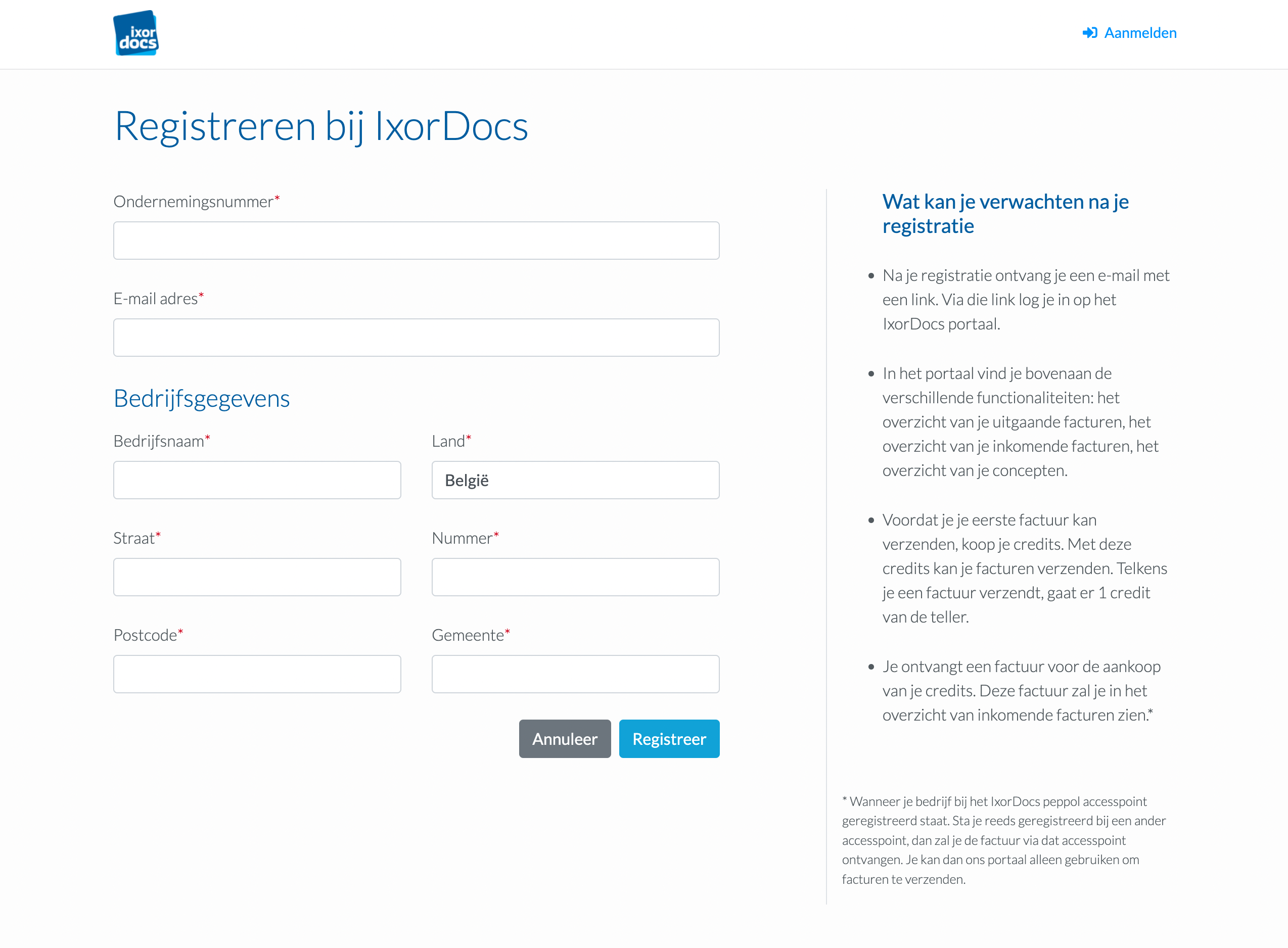 You will then receive a confirmation e-mail.
Once confirmed, you will already have access to your Account Portal but you will have to wait a little while (usually a day) for the approval of your PEPPOL registration.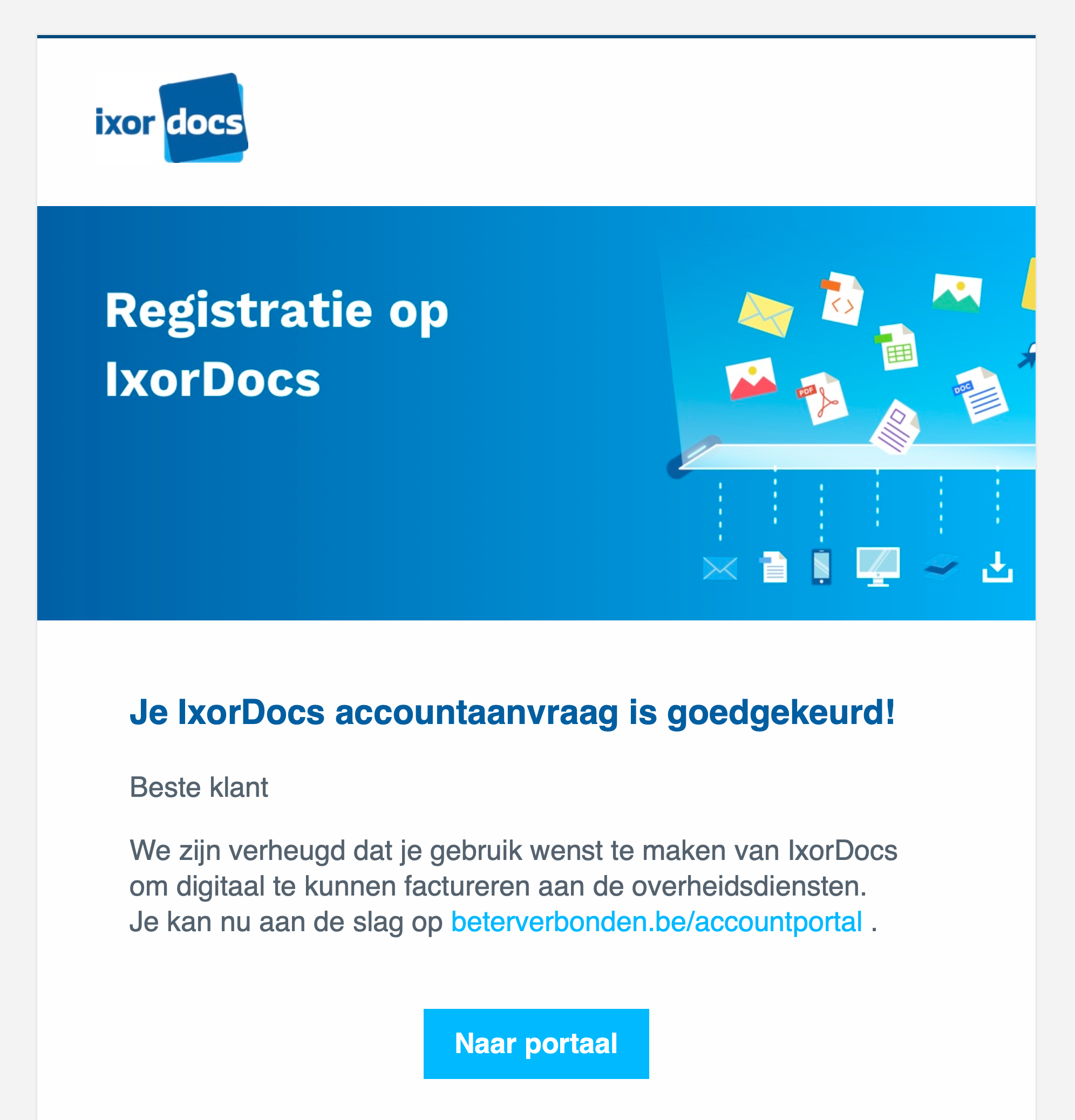 Once your application is approved, you will see that you have 0 credits in your portal.

Then you can purchase credits.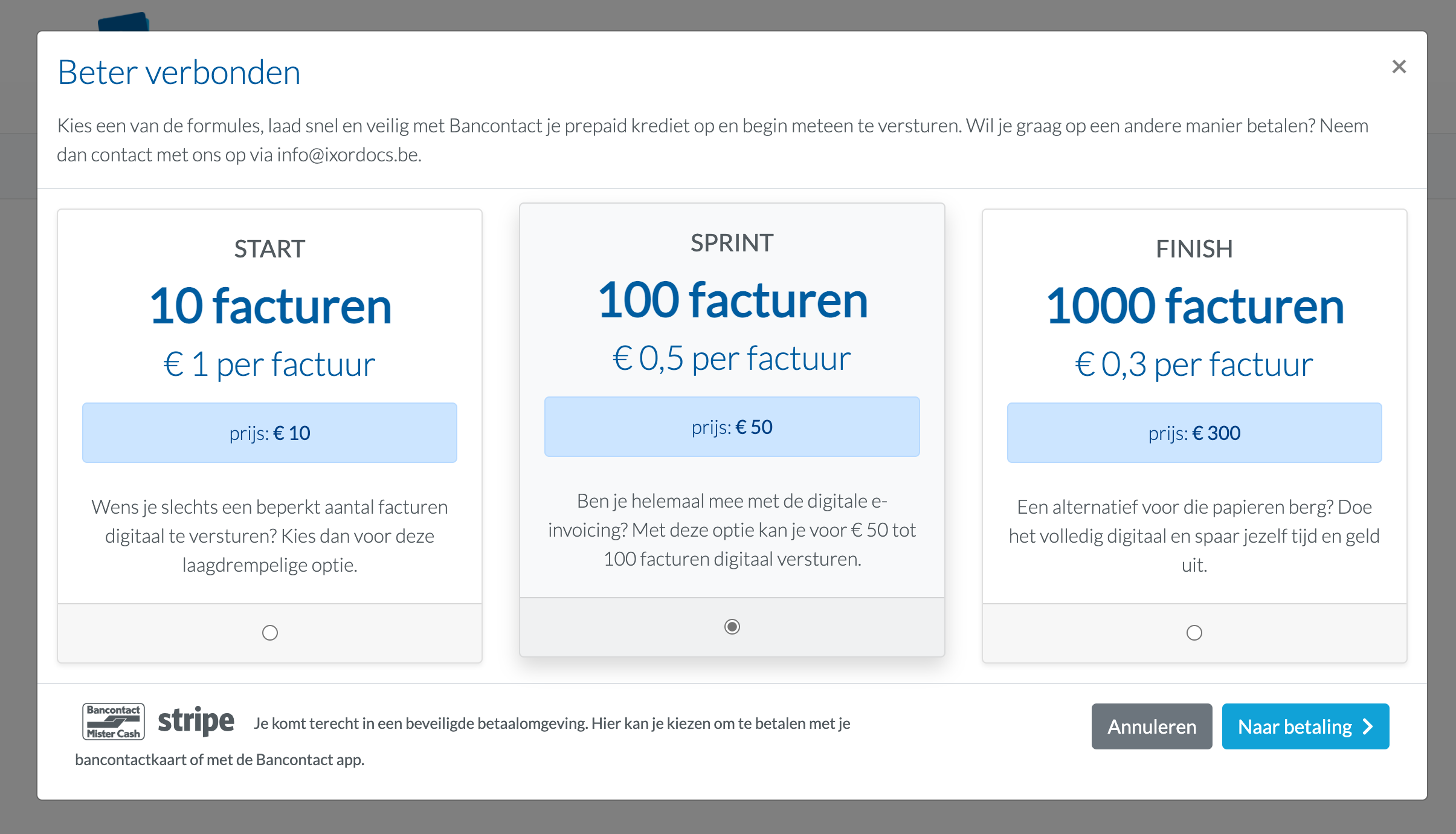 Now you can send your first invoice via the PEPPOL network.
Sending an invoice
In your Account Portal click on "+ New invoice" and you can now upload, verify and send your OkiOKi PDF invoice.