If you go to your menu in the accountancy portal, you can click on 'Settings'. In this screen you can specify a lot of useful settings for your portal and your clients. We will go through them briefly.
Download usage statistics
At the very top of the settings page in your accountancy portal, you can download the usage statistics of your clients. You will then receive an Excel file with a monthly overview of all your users. It contains the following data:
The period to which the data relates: if you only want to see the data of the last month, it is important to filter in this column on the right period.
The start date of your users
The VAT numbers of your clients
Their company name and number
The first name, last name and email address of the user
The groups the user belongs to
The number of documents in their account
Their links to email addresses, banks and cloud folders
Whether they have set up coda files
All this data is shown per user and per month in the Excel file.

Delivery delay for UBL documents
This setting is useful if you would like to receive relevant metadata about your UBL documents. You will also find additional information about this in the accountancy portal itself.
Normally, a UBL document can be sent to the accounting department as soon as it is marked as ready in OkiOki. However, the UBL document is then sent with the current status and data as recorded at that time. Therefore, sometimes it can be useful to postpone the delivery of UBL documents for a few days.
Such a postponement of delivery allows relevant metadata such as tags, comments or payments to also be included with the UBL.
As an accountant, you can set how many days you want to postpone the sending of UBL documents.
Document transfer
Here you can choose the way in which documents are sent from the entrepreneur to the accountant. Documents are sent to the accountant in UBL, PDF or image format. The different methods of transfer offered by OkiOki are transfer via FTP, transfer via cloud storage, via API or via email. All options are discussed in detail below.
Note: You can set the receiving accounting package in general settings or in client settings. With the former you set up a package at the level of the whole company, with the latter you set up a package at the level of one specific client. It doesn't matter which one you choose, as long as at least one accounting package is set up each time.
You can choose to transfer your documents via an FTP server. To do this, you must set up (or have set up) your own FTP server for OkiOki to deliver the files to. Afterwards, you can add the FTP connection to OkiOki.
In the connection settings, you set the basic settings for your FTP server:
Connection name (afterwards, you can also enter this name in the customer settings at "Main sFTP settings for this company")
Transfer type: FTPS, SFTP or FTPS2
Note: FTPS and FTPS2 are actually the same transfer types, but FTPS2 works with a different software version that supports certain more recent features offered by the accountant's FTP server. Therefore, it is always best to choose FTPS2 as the transfer type because it can always process the latest versions of FTP servers.
Server (host)
Port
Username
Password
SHA256 fingerprint of certificate (only for self-signed certificates)
Receiving accounting package
In your folder settings you indicate to which main folder your administration may be sent and you also name the subfolders. "/" is always the starting folder on your FTP server. Individual folders of the client can be set in the client detail. OkiOki will then use the combination of these details to store the files in the correct folders and subfolders. We clarify this below with an example.
The name of the root folder is set on the general settings page. This could be "/EFFF" for example.
The individual folder of the client is set on the settings page of that specific client, for example: "TOP CLIENT".
Finally, you also enter the name of the subfolders on the general settings page, for example: "PURCHASES".
Our logic will then define the path for the file as <MAPNAME MAIN> +<MAPNAME CLIENT>+<MAPNAME SUBFOLDER>. So, in this example, the purchase files for that client's file would be stored in the folder: /EFFF/TOP CLIENT/PURCHASES.
Furthermore, you also have the file settings. There you can choose in which file type you want to receive the documents. Next to the folder for purchase invoices, the folder for sales invoices and the folder for miscellaneous documents (under 'Folder settings'), you can choose for each of the 3 types of documents whether you want to receive the data in PDF, UBL, PDF and UBL or not receive it at all.
Finally, we also inform you that you can add multiple FTP connections to your accountancy portal.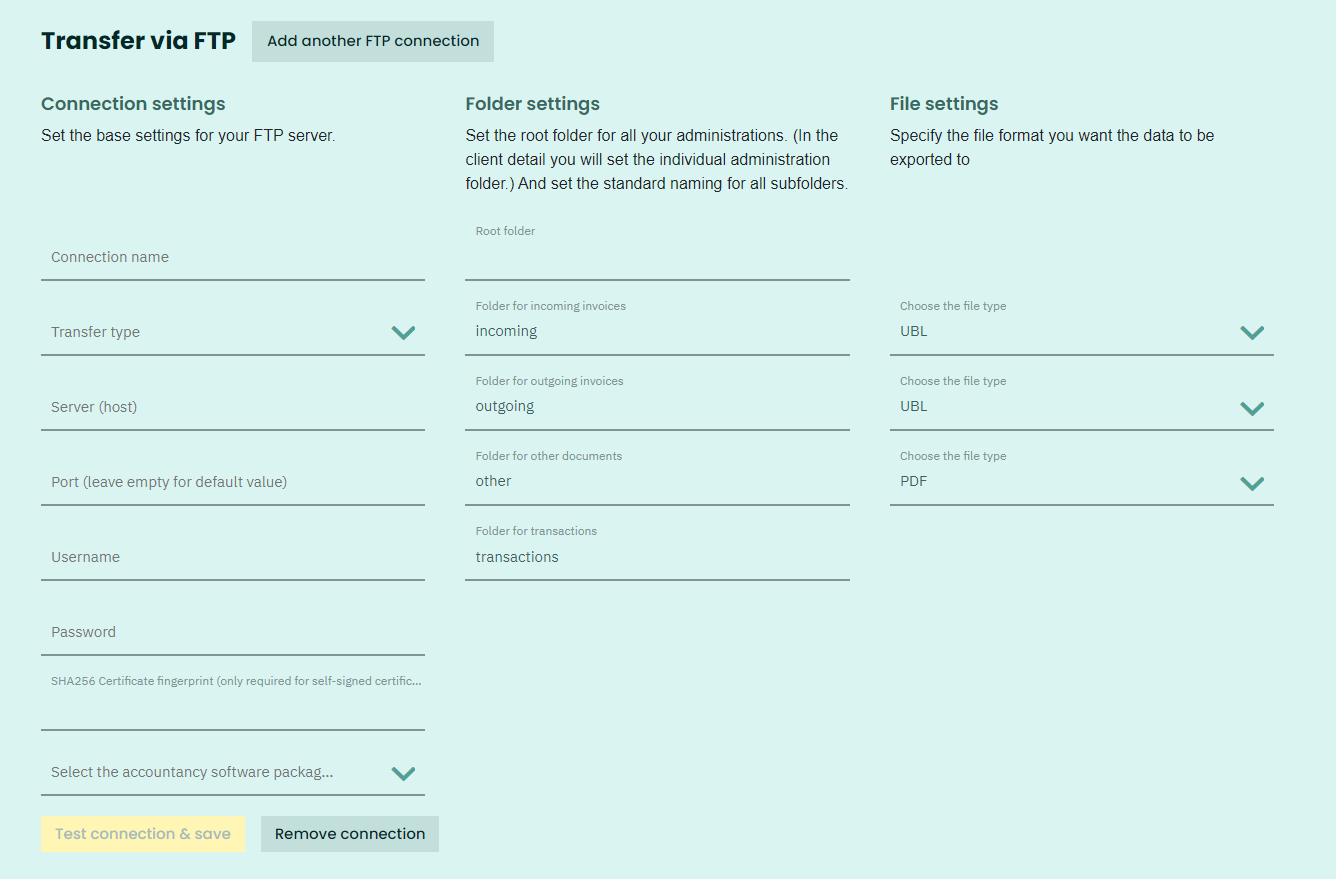 Transfer via a cloud storage folder
You can also opt to transfer your documents by storing them in a cloud service. OkiOki only supports OneDrive for this purpose.
To set up this connection, first select your cloud storage service (i.e. OneDrive) and log in there. Afterwards you set a default name for all subfolders on your cloud and select the receiving accounting package as well.
Finally, for purchase invoices, sales invoices and various documents you can choose how you want to receive them: as PDF, UBL, PDF and UBL or not.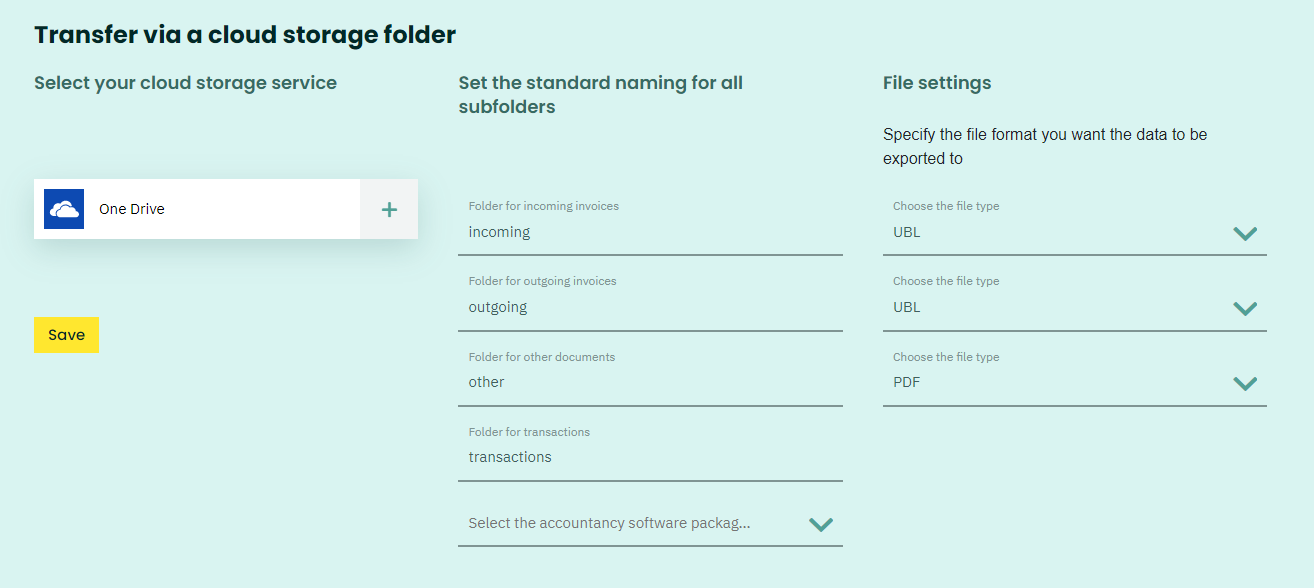 In addition to an FTP connection or cloud storage service, you can also work with an API to transfer documents. To establish the connection here, you first select your accounting software. Depending on which software you use, the connection will be established differently.
If you choose Clearfacts you will need your personal access code which you can find on your Clearfacts profile.
If you choose Exact you will need to connect to the Exact portal.
Note: Transfer via Exact Online is only possible for coda files today. Documents still need to be transferred via email to the Exact software.
If you choose my.adsolut.com you'll need to connect to the my.adsolut.com portal.
Furthermore you can also choose how you want to receive the data: as PDF, UBL, PDF and UBL or not. And you can set this up separately for incoming invoices, sales invoices and various documents.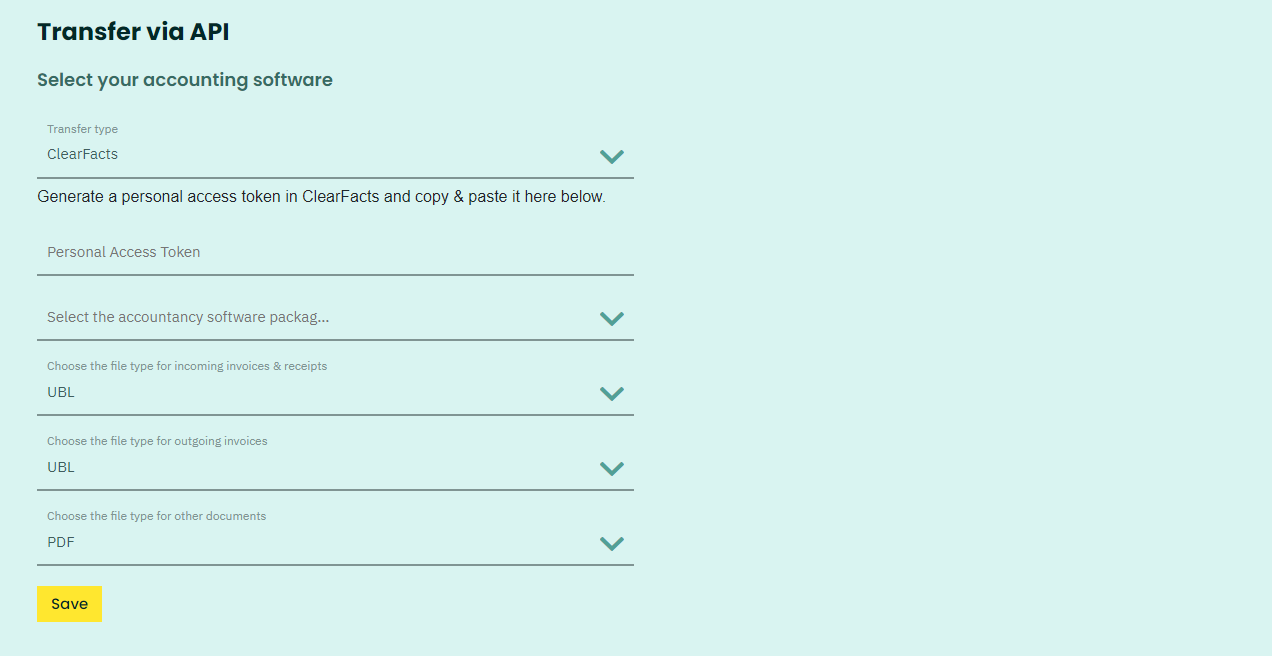 Finally, you can also choose to send documents to accounting by email. To do this, you again choose for each of the 3 types of documents how you want to receive them: as PDF, as UBL, as PDF AND UBL or not. Finally, you also select your accounting package.

Ready for the next step? Find out how to manage and add users to the accountancy portal.